Water Damage Wilmington
It's necessary to the health of your home to be aware of invading moisture that may cause permanent issues with your property, and the water damage Wilmington operation at 911 Restoration Long Beach knows exactly how to prevent that from happening.
Our phone lines are available 24/7/365, making it possible for you to call us the moment you find yourself in the midst if a water emergency.
Our IICRC certified water damage Wilmington techs are licensed, bonded and insured to provide you with the following same day services:
Toilet overflow sanitization

Pipe bursts remediation

Washer hose bursts correction

Mold infestation clean up

Water heater leak repair

Fire sprinkler malfunction restoration

Flooded basement water removal
When you contact us, our service agents will guarantee to get to your home within 45 minutes, because we know how crucial it is to the recovery of your home to get water off surfaces and possessions quickly.
Call our home restoration company as soon as you discover a leak in your household and our water damage Wilmington experts will provide you with a free home inspection.
Water Damage Can Lead To A Mold Infestation
There are very specific reasons why water damage needs to be remediated in such a quick time period. Not only can it cause rot and rust, but the moisture may also promote mold growth.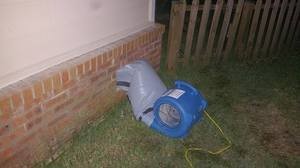 Mold spores like nothing more than damp areas where they can flourish, so by getting our water damage Wilmington professionals in your home quickly, they can implement cleaning efforts that will stop any of those incidents from occurring.
We use high quality equipment, such as sump pumps, wet vacs, humidifiers and air movers, to get the household dry and clean.
Our extensive training and experience has given us the skills needed to get every drop of moisture out of the home, and repair any damage that has set in.
Call our water damage Wilmington team as soon as you notice any signs of a flood or a leak, such as water stains and soggy drywall, and we will get to your home right away to begin restorative procedures.
You Can Count On Us To Remove Every Trace Of Water Damage
We understand that just as quickly as water enters your home, you want it removed just as fast. Fortunately, our water damage Wilmington staff know exactly how to do that with out compromising the integrity of your home.

Our technicians know how to work both quickly and efficiently, getting your home back up and running again faster than any other company.
Along with assisting with a swift cleanup, we can also guide you through the insurance process.
In fact, we will file your entire insurance claim for you, doing whatever it takes to get you proper coverage.
Cal lour water damage Wilmington agents at 911 Restoration of Long Beach today and we won't rest until your home is back in pristine condition.