Water Damage Restoration in San Pedro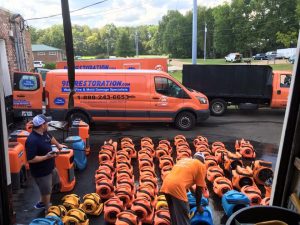 Property owners in San Pedro know that of all the types of property damage that exists, water damage is the most common and potentially destructive. Whether it builds slowly over time or happens all at once the impact on the property is significant. That's why our IICRC certified technicians are ready 24/7/365 to work on your water damage restoration and if needed mold remediation. Whether you are in San Pedro, Torrance, or another city in the Long Beach area we guarantee to arrive within 45 minutes ready to get to work on your water damage restoration.
After as little as 24 hours, any water still left can start producing mold. The longer the mold is allowed to grow, the larger the problem becomes since mold keeps growing and spreading throughout the property. The trick is to get prompt water damage restoration services. The quicker the response, the less likely you are to need mold removal services on top of your water damage restoration.
Everything from mold inspection to flood cleanup is handled by our IICRC certified technicians. Call 911 Restoration for assistance today and get the Fresh Start you deserve within 45 minutes for our San Pedro customers.
Water Damage Company
Water damage restoration is more than just removing the water and then going on about your day. As your water damage company, we know and understand what it takes to deliver a successful water damage restoration process. Our years of experience and ongoing training have ensured that our process has been honed to perfection with guaranteed results. Before bringing out the tools and equipment, we start with a visual inspection of the affected area. With the inspection, the goal is to determine the extent of the water damage, if mold is present, and what needs to be repaired before we leave.
Once the inspection is done and we have the answers to our questions, we can get to work. The next step is our water extraction and drying process. By using the latest equipment and commercial dryers we ensure that the property gets completely dried out. We also take the time to double check our work with infrared cameras to detect any wet spots the naked eye just can't see. Doing so prevents us from needing to come back in two months to perform mold removal services for our San Pedro customers.
After the property is dry, we can get to work on the needed repairs. We make sure to repair the source of the water damage so it can't happen again. In addition, we also install new sheetrock, flooring, and other needed repairs to get your property back to good as new.
If you suspect mold or notice water damage, don't wait to call 911 Restoration. Whether you're in San Pedro or another city in the Long Beach area, we'll be there within 45 minutes to deliver your Fresh Start.
Flood Damage Restoration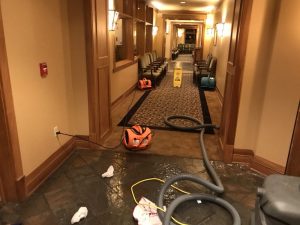 When water levels are high enough, flooding occurs. One of the most common reasons is a flooded basement thanks to the potential for a pipe burst. The excessive amount of water will be contaminated with either dirt and debris or raw waste depending on the type of pipe that's damaged. At this point, you need flood damage restoration, which is also known as flood cleanup. Flood cleanup is different from standard water damage restoration in one specific way.
The contaminants in the water along with the increased possibility of mold necessitate a mold decontamination process before anything else can be done about the water. The area needs to be neutralized and sanitized to ensure that its safe for the residents of the property. Once that step is accomplished, we can proceed with water extraction and drying. That process remains the same since the goal doesn't change. We still need a completely dry property to ensure that further problems don't develop. After the property is dry, we get to work on the necessary repairs to get the property back to good as new.
Keep in mind that flood damage is usually covered by insurance. If you need assistance with the insurance claims process, don't hesitate to consult our technicians. We have worked with every insurance company, and are happy to guide you through the process.
If you need flood cleanup or a mold inspection, call 911 Restoration immediately. Don't wait to get the Fresh Start you need to begin anew.
Servicing the cities of Carson, Harbor City, Lomita, Long Beach, Los Alamitos, Palos Verdes, Rancho Palos Verdes, Redondo Beach, San Pedro, Seal Beach, Signal Hill, Torrance, Wilmington, and surrounding areas.