Water Damage Restoration in Palos Verdes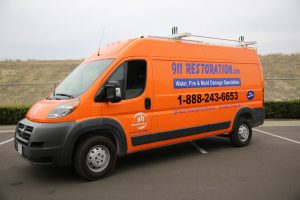 As a property owner in Palos Verdes, you know that water damage is the most common and destructive type of property damage you can face. It only takes a little to make a big impact and can build up slowly over time or happen all at once thanks to the different ways water damage can occur. That's why our IICRC certified technicians are ready 24/7/365 to work on your water damage restoration and mold remediation. Whether you live in Palos Verdes, Rancho Palos Verdes, or another city in the Long Beach area, we guarantee to arrive within 45 minutes ready to get to work on your mold removal.
Water only needs 24 hours to start producing mold. The longer the water is left alone, the greater the amount of mold that grows and spreads throughout the property. That's why prompt water damage restoration is needed. It's the key to making mold removal services a service you don't need.
Call 911 immediately whether you need a mold inspection or full water damage restoration. We'll be there for our Palos Verdes residents within 45 minutes to begin working on the Fresh Start you can depend on.
Water Damage Restoration
Water damage restoration is more than just removing the excess water and calling it a day. It's a complex and involved process that considers numerous factors. At 911 Restoration, our IICRC certified technicians have combined their years of experience and ongoing training to deliver a streamlined and perfected water damage restoration process to our Palos Verdes customers. Before we get started, the first thing we do is perform a visual inspection of the property. The inspection informs us of the extent of the water damage, need for mold remediation, and what repairs are necessary before we leave.
Once the inspection is done, we have an action plan and proceed onto the next step. That step is our combination of water extraction and drying. We accept nothing less than a completely dried out property so we use the latest water extraction equipment and commercial dryers to get the job done. We go a step further and use infrared cameras to pick up on any wet spots that were missed by the visual inspection. By doing this, we're ensuring we don't have to come back in two months for mold remediation. Once all water is removed and any mold is addressed, it's time to start making the repairs.
For our Long Beach area customers, we work to repair the source of the water damage to keep it from happening again. In addition, we also make other repairs such as installing new sheetrock, new flooring, and other repairs as needed to get your property back to good as new. It's just part of our Fresh Start philosophy.
If you suspect mold or need water damage restoration call 911 Restoration immediately. Everything from mold decontamination to flood cleanup is handled by our technicians as part of our Fresh Start guarantee.
Flood Damage Restoration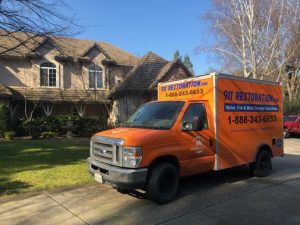 When the water levels are high enough, property owners suffer from what is known as flooding. A flooded basement is the most common occurrence thanks to the pipes running through the room. In extreme conditions, a pipe burst can happen, which results in instant flooding. When this occurs, nothing less than flood cleanup will get the job done. Flood cleanup is slightly different from water damage restoration because the water is contaminated when its floodwater. As such, an additional step is needed before the property can be restored to good as new.
The extra step we're referring to is decontamination, and if mold is already present mold decontamination. Contaminated water contains dirt or raw waste depending on the pipe. For this reason, extra care is needed to make the affected area safe for the inhabitants within the building. After decontamination is complete, we can proceed with our water extraction and drying process. At this point, the process looks like our water damage restoration service since the goal of complete dryness is the same. After drying the property out, it's time to perform any needed repairs. 
If you need help with the insurance claims process, feel free to consult with our technicians. They are qualified and willing to walk you through the process so you can get the help you need when you need it.
If you need flood cleanup or mold decontamination call 911 Restoration. We'll be there in 45 minutes for our Palos Verdes customers to deliver a Fresh Start you can count on.
Servicing the cities of Carson, Harbor City, Lomita, Long Beach, Los Alamitos, Palos Verdes, Rancho Palos Verdes, Redondo Beach, San Pedro, Seal Beach, Signal Hill, Torrance, Wilmington, and surrounding areas.