Water Damage Restoration in Torrance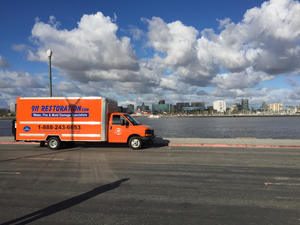 As a property owner in Torrance, you know that property damage can occur in numerous ways, making it difficult to stay on top of things. One of the most common types is water damage. Water damage can build over time like with a leak under the sink or can be instantaneous like with a pipe burst. No matter how the water damage starts, one thing is clear. Water damage restoration is needed to get back to good as new. Our IICRC certified technicians are ready 24/7/365 to handle all water damage restoration and mold remediation needs for our Torrance residents. We guarantee to arrive within 45 minutes of receiving your call ready to get to work on your water damage restoration and more.
Water only needs to be around for 24 hours for mold to start growing. The longer the water is left standing, the greater the potential for a mold infestation to develop. As time goes on, the mold can spread to new areas on the property making an already large problem significantly more complicated. That's why fast water damage restoration is needed to avoid needing mold removal services as well.
Everything from mold inspection to flood cleanup is handled by our technicians at 911 Restoration. Don't wait to call and get the Fresh Start that has you back to good as new before you know it.
Water Damage Company
Choosing your water damage company is a big decision. You need a company that not only gets the job done, but more importantly gets the job done correctly the first time. At 911 Restoration, we have honed our water damage restoration process to perfection thanks to a combination of years of experience and ongoing training. The first step upon arrival is for us to perform a visual inspection of the property. This inspection informs us of the extent of the water damage, if mold is already growing, and what repairs will be needed once the property is dried out.
Once the inspection is done, it's time to unload the equipment for the next step. We only use the latest water extraction equipment and commercial dryers to perform our water extraction process. Our goal is nothing less than a completely dry property. We will accept nothing less, which is why use infrared cameras designed to pick up wet spots to double check our work. If mold was discovered during the inspection, we also work on any needed mold remediation at this time too.
For us, the job isn't done until the property is back to good as new. This usually means repairs are needed. In addition to repairing the source of the water damage, we also perform additional repairs. Depending on the situation, we may install new sheetrock or new flooring to help our Torrance customers get back on their feet.
If you suspect mold or notice water damage, don't wait to call 911 Restoration. We'll be there within 45 minutes to work on your mold removal and water damage restoration in an effort to deliver a Fresh Start.
Flood Damage Restoration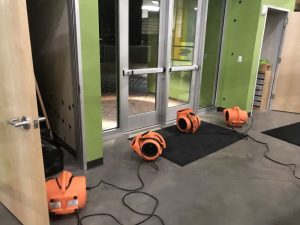 Sometimes water damage goes to a new level known as flood damage. That's when flood damage restoration, also known as, flood cleanup becomes necessary. One of the most common examples of flooding is a flooded basement. This is largely due to the numerous pipes running through the basement. Whether it's a leaking pipe or a full pipe burst, the damage can be significant and require flood cleanup services, which is a little different from standard water damage restoration.
The main difference with flood cleanup is the additional step needed to get the job done correctly. Water from pipes is contaminated with either dirt and debris or raw waste depending on the pipe that was damaged. That's why decontamination and possibly mold decontamination is needed. Only after decontamination is complete, can we proceed with our water extraction and drying process. With flooding, we strive to work quickly but effectively to minimize the chances of mold developing. However, if mold is already present, we are happy to provide mold remediation services as well.
Flood damage is usually insured damage. Our years of experience make us uniquely qualified to assist with the claims process. If you desire guidance, we are more than happy to walk you through the insurance process.
As soon as you notice flooding, call 911 Restoration for your flood cleanup. No matter what emergency restoration service you need, you can count on us to arrive in 45 minutes to start working on your Fresh Start.
Servicing the cities of Carson, Harbor City, Lomita, Long Beach, Los Alamitos, Palos Verdes, Rancho Palos Verdes, Redondo Beach, San Pedro, Seal Beach, Signal Hill, Torrance, Wilmington, and surrounding areas.