Water Damage Seal Beach
When your home becomes flooded by a plumbing issue or a heavy storm, you can call the water damage Seal Beach technicians at 911 Restoration Long Beach and we will  be at your home, ready to begin extracting the water, within 45 minutes of receiving your call.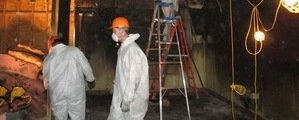 When you need help, you can be certain that we will be able to help you any time, day or night, because our Seal Beach office is available 24/7/365.
We want you to know that when you contact us, our Seal Beach water cleanup unit will implement same day services so that your household gets back up and running again like usual in no time.
Our experts even have the most advanced drying technology and equipment to ensure that your home and property are taken care of to the highest standards in the industry.
Call our Seal Beach water removal workers today and we will begin the home restoration process by conducting a free home inspection as soon as we arrive on the scene today!

Removing Mold, Mildew And Fungus
The Seal Beach water extraction members are well aware that invading waters in the home can cause mold spores to blossom into a full blown infestation if the water damage is not mitigated quickly.
After we pump out all of the floodwater and get your home dry, the next thing we do is check for mold. In order to give you an idea of our process, below are some of the things we do to make sure your property is fungus free.
Check Every Nook and Cranny. Even though you can easily see mold once it has grown, it usually has a propensity to living in out of sight areas, such as air ducts, in between walls, crawlspaces and under floorboards. Our crews have equipment that allows us to check every corner of your property, even the hardest to reach places.

Act Fast. Mold can begin to grow in just 24 hours after it has been exposed to water, so we make sure to bring our mold eradication gear with us to every job so we can get started clearing it out right away.

Keep the area dry. To prevent mold from spreading, we make sure to get the home completely dry in as short amount of time as possible.

Pay special attention to the walls and ceiling. If floodwaters seep into your walls and ceiling then we do whatever it takes to get them dry again. We make sure to get rid of all the wet material, including insulation, drywall and wood, to ensure that no mold grows in the porous material.

Keep you safe. Never attempt a mold cleanup on your own. We know how to go about removing this potentially hazardous substance safely and thoroughly with top-of-the-line equipment.
Call our Seal Beach flood cleanup techs as soon as you discover the water in your home and we will extract both the moisture and the mold in no time.
When You Hire Our Water Removal Pros Your Home Will Be In Good Hands
Making the home restoration process as easy as possible for homeowners is the main goal of the Seal Beach water damage restoration operation.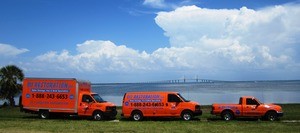 We know how hectic this time can be, and we want to be there for you in any way you need it, including helping file your insurance claim.
With so many years of experience working in the field, our Seal Beach water disaster experts know exactly what information your provider needs to get you the best possible coverage.
Never let a water invasion of any kind affect your property without help from experts like ours at your side to guide you through it, and take care of you every step of the way.
Call our water damage Seal Beach team with 911 Restoration Long Beach and you can be sure that we will do everything possible to get you the most competent, affordable services in the industry today!