Sanitization Services in Long Beach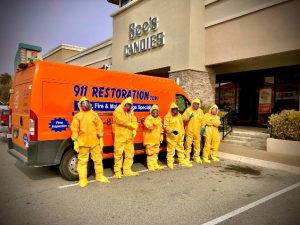 The coronavirus is spreading quickly in the Long Beach area. Numbers have been rising at a rapid pace all throughout 2020, going into 2021. According to the Centers for Disease Control and Prevention (CDC), we can all take steps to slow the spread of the virus. One way you can take action is by ensuring your property is properly sanitized and disinfected. 
911 Restoration is standing by to offer you covid 19 cleaning services in Long Beach. You can reach out to us around the clock when you need help cleaning up your commercial or residential property. We can handle office deep cleaning and sanitization of other retail spaces.
Keeping your property clean represents one way to do your part to flatten the curve of the COVID-19 pandemic. You may also maintain social distancing and self-isolate as much as possible. Additionally, some businesses are temporarily closing to limit the spread of the coronavirus. Call us at (562) 270-2001 and see how we can help you.
911 Restoration of Long Beach provides professional cleaning services backed by years of experience. Our covid 19 cleaning companies in Long Beach use the most current protocols issued by the Centers for Disease Control and Prevention (CDC) and the Environmental Protection Agency (EPA). Count on us to clean and disinfect your property, starting right now.
Focus on Sanitization and Disinfection in Long Beach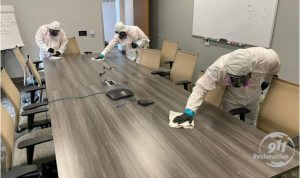 Everyone is looking for a little more peace of mind as we deal with coronavirus as a community. You can take proactive steps to reassure your employees and customers by focusing on sanitization for your retail space or office. Contact 911 Restoration of Long Beach to get:
Professional help cleaning surfaces and specific areas

Assistance from techs with access to professional cleaning supplies

Fast cleanup from a locally owned and operated company
Our crews have the training and experience to handle both commercial and residential sanitization and disinfection in Long Beach. We can easily set up a schedule to regularly clean and sanitize your office or retail property. Regular sanitization is important when dealing with COVID-19, as many of the people who carry the virus are not symptomatic when they are contagious.
Call 911 water damage experts at (562) 270-2001 and learn how we can help.
You can also reach out to 911 Restoration of Long Beach if you shut your business temporarily to handle the coronavirus outbreak. Many business owners have closed to limit social interaction that can lead to further infections. 911 Restoration of Long Beach can provide you with sanitization services before you reopen, so you can feel confident about serving your customers once more.