Mold Removal Torrance
If you discover damp, dark blotches under your sink, in your bathroom or in your attic, you may have mold growing in your home, something that the mold removal Torrance experts at 911 Restoration Long Beach know a lot about.
Our mold removal Torrance professionals have many years of experience eradicating fungus from homes, so you can trust that when you hire us for a job, you are getting the services of the most capable hands in the industry.
We are licensed, bonded and insured to provide you with the following mold remediation procedures:
Water damage restoration

Moisture extraction

Thorough drying techniques

Sanitization

Spore removal

Drywall replacement

Vapor Barriers

Air filters and purifiers

Mold testing

Cleanup services
It is important to treat any mold situation quickly, that way we can limit the effect it has on your home and those living inside of it. In order to facilitate this, we keep our office available 24/7/365, making it easy to schedule an appointment with our mold removal Torrance team.
Call us today, and our mold removal Torrance team will get the fungus removal process started by conducting a free visual mold inspection as soon as we arrive.
Mold And Fungus Can Have An Effect On Your Health
Mold is a sneaky substance in the way that it likes to live in places that are not always visible to the homeowner. Similar to water damage (which is usually a component to its growth), fungus and mold can ruin your property when it is left to fester undisturbed.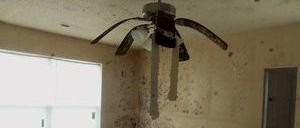 Just because you can't see it, doesn't mean it isn't doing damage behind the scenes, including damage to your health.
When those living inside the home breathe in air that contains mold particles, then it can cause you to experience allergy symptoms and breathing issues, including wheezing, coughing, sneezing, headaches, itchy eyes, rashes and even asthma.
Once we get on the scene we will check every corner of your property, including crawlspaces and attics, to determine exactly where the mold is growing.
Anything we can do to keep you safe from undergoing these health problems we will do, so call our IICRC certified mold removal Torrance staff today!
It's Our Main Priority To Get You Safely Through This Fungus Fiasco
With so many years of experience dealing with mold removal incidents of all sizes and proportions, you can count on our mold removal Torrance technicians to get rid of every trace of mold from your household promptly and thoroughly.

Not only do we extract preexisting mold, but we remove spores from the area as well. This is just as important because spores are just an infestation waiting to happen.
Along with cleaning your home, we will also help you with figuring out the financial side of things. Sometimes homeowner's insurance does not cover mold removal, so our mold mitigation agents always offer affordable fungal remediation services.
We just want to make this process as easy as possible, so call our mold removal Torrance technicians at 911 Restoration Long Beach today and we will make your home a clean and safe environment again.