Mold Removal in Carson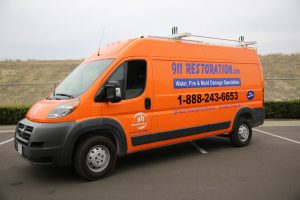 Being a property owner in Carson can be rewarding, but it can also be challenging. Property damage can happen at any time. Sometimes, it can go on for months before you realize it's happening. Mold contamination is one of those types. Mold grows slowly over time and during that time, it eats away at the organic materials of the property like sheetrock and furniture to name a couple. In addition, it also causes health issues in otherwise healthy people. Our IICRC certified technicians are ready 24/7/365 to help with your mold remediation needs. No matter if you live in Carson, Torrance, or another city in the Long Beach area we guarantee to arrive within 45 minutes ready to get to work on your mold removal and mold decontamination.
The trick to staying ahead of mold on the property is to be aware of the signs of a mold infestation. Once you know the signs, you can be prepared. Common signs of mold include:
Rotting wood

Crumbled drywall

Visible mold

Breathing problems

Headaches

Persistent cough

Stale odor
Especially when the amount of mold present is small, the temptation to clean it yourself is high. However, regular cleaning methods are ineffective and only serve to agitate the mold spores. Once agitated, mold spores become airborne and can spread to other areas of the property causing new colonies to thrive. That's why professional mold remediation is the only viable solution to get the property back to good as new.
As soon as you suspect mold, call 911 Restoration immediately. We'll be there to handle everything from mold inspection to mold remediation within 45 minutes for our Carson customers. Don't wait to get the Fresh Start that has you breathing easier.
Mold Remediation Professionals
When choosing mold remediation professionals, you need technicians that are IICRC certified and have perfected their mold remediation process thanks to a combination of years of experience and ongoing training. At 911 Restoration, that's exactly what our Carson customers get. Our technicians are trained and ready for everything from mold inspection and mold decontamination to mold cleanup and mold removal.
Before unloading the equipment, we perform a visual mold inspection. The mold inspection lets us know how far the mold has spread, if its toxic, and how its affecting the rest of the property. In addition, we are able to determine where the water damage is that is causing the mold in the first place. Once this step is done, we can execute an action plan.
The next step is containment. We can't let the mold spores escape so we use the latest containment measures including vapor barriers to prevent the mold from spreading. Once containment is achieved, it's time for mold decontamination. During this step it's all about killing the mold spores, which is done with industrial cleaners and detergents. Then our favorite part occurs. The actual mold removal and water damage restoration. The goal is to leave a completely dry property that is mold free. Doing this prevents the mold from making a return appearance.
Call 911 Restoration as soon as you suspect mold or notice mold growth on the property. The faster you make the call, the faster mold remediation can happen. Don't wait to get the Fresh Start our Carson and surrounding Long Beach area customers count on.
Black Mold in my House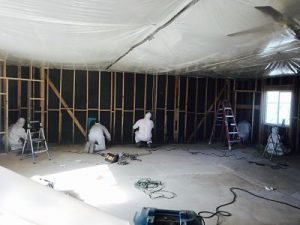 Sometimes, mold grows quickly and aggressively. This usually happens in rooms that are naturally dark and damp like the basement or attic. The large number of pipes present in both rooms make for the perfect opportunity for leaking pipes or burst pipes. With so much water left unchecked, it's almost a given that full mold remediation will become necessary to get everything back to normal again.
The longer the mold is left to grow, the greater the chance for it to become toxic mold. The most toxic is black mold, and it is detrimental to a person's health. Some of the more severe symptoms include organ shutdown and even death in some cases. That's why when black mold is suspected, we don hazmat gear and send mold samples off for testing. We will either confirm the presence of toxic mold or rule out the possibility while taking care of your mold decontamination and mold removal.
Everything from mold cleanup to mold decontamination is a call away. Call 911 Restoration for the Fresh Start you deserve.
Servicing the cities of Carson, Harbor City, Lomita, Long Beach, Los Alamitos, Palos Verdes, Rancho Palos Verdes, San Pedro, Seal Beach, Signal Hill, Torrance, Wilmington, and surrounding areas.