Importance of Sanitization Services after Water and Fire Damage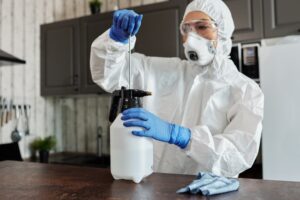 Are you wondering why your colleague kept mentioning sanitization when discussing the recent water damage to their house? The reason they mentioned it is because sanitization services after water and fire damage are necessary.
Water and fire damage are some of the worst types of damages to happen, and the experience can be disheartening. However, as long as you are okay, you can work with people who understand your position and get the 'Fresh Start' you deserve with home restoration services.
What you must remember is that restoration doesn't end when the structure is strengthened again. Sanitization is a significant part of the process as well.
What Constitutes the Sanitization Process?
Sanitization involves deep cleaning of areas and surfaces using strong cleaning agents to kill bacteria, remove harmful substances, and make the place safe and hygienic for utilization. It is also paired with disinfection, which focuses on using agents that are harmful to micro-organisms like bacteria or viruses.
Both sanitization and disinfection are important for preventing contact with toxic material and harmful diseases.
Impact of Water and Fire Damage on your House
Water and fire damage may be different in their approach, but they both cause extensive destruction. Following are the main ways these two types affect your house.
Water Damage
Water may look like the calmer of the two elements, but it is equally dangerous considering the impact it has on your property and belongings.
It destroys furniture or electrical appliances in the affected rooms.
Weakens the house infrastructure by seeping in through the cracks
Potentially harming the electrical system in the house.
Water aids mold formation and mold infestation.
Creates cracks in the structure that pests use to enter.
Fire Damage
Fire damage is destructive because fire spreads quickly and, unlike water, is destructive in its natural form. Therefore, the only option you have when faced with a fire emergency is to run to safety before the flames catch on.
Following are some of the main ways fire damages your property:
It eats away at core structural components, weakening the house foundations.
Spreads quickly, and the heat affects areas where the flames can't reach, which means most things are in danger of getting destroyed.
Creates soot, a carbon compound, which is harmful when inhaled.
Melts wiring within house walls, necessitating reconstruction.
Leaves behind an odor of burning paper and material.
These are some of the key ways in which water and fire damages affect your home.
Why do you Need Sanitization after Water and Fire Damage
Nothing from the list may have jumped out and called for the need for sanitization, but we can assure you that there are multiple reasons.
1.    Risk of Infections due to Moisture
Micro-organisms, like bacteria and viruses, thrive in damp environments and multiply exponentially within a short period. Without utilizing proper sanitization services for water damage and fire damage, you are risking the possibility of a hub of diseases taking root in your house.
2.    Pest Infestations
Damp and cracked walls are the perfect invitations for critters and pests like rats. In addition to the structural damage these critters cause from within the walls, they are also notorious for carrying diseases and spreading them along as they go.
So, your risk of infections or disease multiplies.
3.    Bad Odors
Fire damage leaves behind the smell of burned plastic, paper, wood, etc., which is very difficult to live with. But the smell from water damage is even worse. Stagnant water is a breeding ground for several bacteria, and several of these bacteria and fungi release horrible smells.
4.    Problems from Soot Inhalation
Soot is a carbon compound that is released when an object burns. You have probably seen it already as the powdery grayish-black cloak of dust blanketing every surface of a place that received incredible levels of fire damage.
The problem with soot is that it is toxic and difficult to get rid of through regular cleaning methods. Although it is light enough to spread with the wind, some of it also stubbornly sticks to surfaces, increasing the risk of contamination when used.
Risks of Skipping out On Sanitization
Each of the factors mentioned above proves how crucial sanitization and disinfection are in the wake of water and fire damage. By skipping on sanitization, you are taking the risk of:
Catching infections and diseases multiple times because your house has become a breeding ground for them.
Pests infestations that result in structural damage and spreading of infections.
Facing general discomfort of poor odors filling your house. It can hamper your social life extensively.
Risking carbon poisoning due to soot particles polluting your household furniture, cutlery, and several difficult-to-reach locations.
911 Restoration has an experienced team of technicians who provide sanitization services after water and fire damages to ensure you never face the aforementioned risks.
We use professional machines, chemicals, and techniques to clean all surfaces and areas in your household. We will also highlight possible needs for repair and home restoration services to prevent pests from nesting in your walls.
In a Nutshell
We hope this article helped you learn about the need for sanitization services after water and fire damage. If you want to learn more about the process or need our services, give us a call at (562) 270-2001 or contact us by clicking on this link.